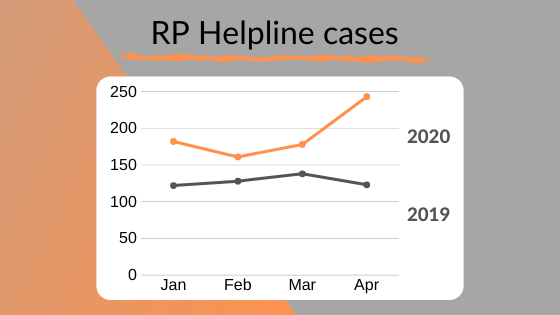 It's week seven of lockdown, but c'mon it does feel like day 1,000, and are you running out of DIY bits to do around the house yet? Or are you one of those amazing key workers who are running around the clock to keep this country going? If so, thank you! 

We have had a record-busting month: we've nearly doubled our cases from last year, even though we are offering an email-only service. Compare this year to 2019 and you can see the large rise in cases! With the additional need for our support, it comes with more hard work from our wonderful team of three; we have been working way past capacity and until now have worked with less-than enough funding to give us the resources to, not only support those who need it, but to produce valuable resources for universities and the public in raising awareness of intimate image abuse. 

We are so pleased with the coverage we have had online and on the radio and with that has come so many thoughtful people supporting us in many different ways: through donations and offers of volunteering their time. We are so grateful as now more than ever, we know how much intimate image abuse can affect someone. It causes so much more pain and humiliation when it is compounded with ongoing social distancing and isolation. 

We are very happy to say that we can continue to be here for those who need it, so reach out to us if you have any queries, want advice, or need someone to talk to – we are here and you are not alone.